CorporationCentre.ca Featured in the Montreal Gazette

Montreal, Qc - February 8, 2006 - CorporationCentre.ca, Canada's leader in the emerging online incorporation and corporate maintenance service industry for small and mid-sized businesses, was featured in the front page of the Business section of the Montreal Gazette.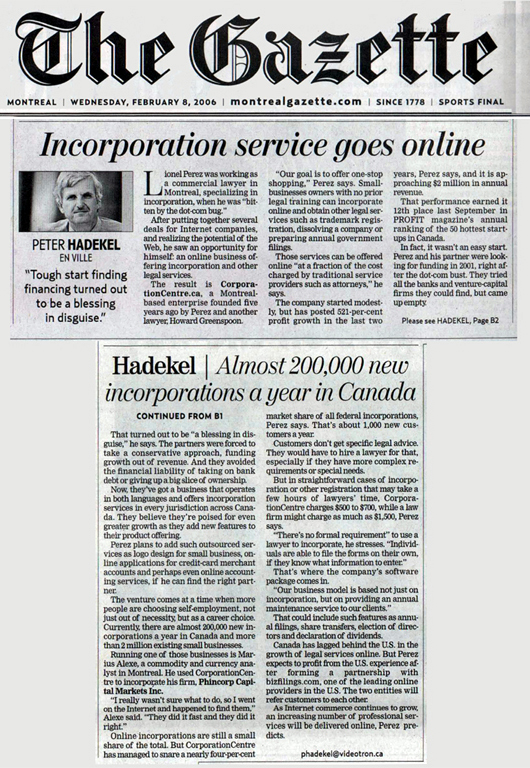 About CorporationCentre.ca®
CorporationCentre.ca is the Canadian Internet leader in providing small business owners, start-ups and entrepreneurs with a full range of affordable, timely and convenient corporate services. Founded in 2001, CorporationCentre.ca offers incorporation, corporate maintenance and governance services, corporate name searches and reports, trademark services, logo design, credit card processing and other services over the internet for a fraction of the cost of traditional sources. The company offers nation-wide services for incorporation as well as a comprehensive information source for entrepreneurs about incorporation. For more information visit www.corporationcentre.ca or contact us at 1.866.906.2677.
For more information, contact:
Lionel J. Perez
President & Chief Executive Officer
CorporationCentre.ca
2000 Mansfield
Suite 1400
Montreal, Quebec
(514) 906-2677, ext. 222
[email protected]